Home
What can I expect next from BHP?
*warning: not recommended to contact any of us.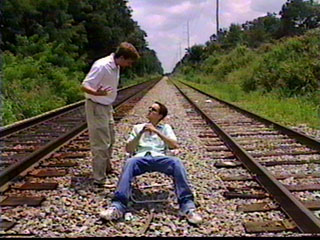 "The Movie Makers" is BHP's first endeavor. It was written in early 1999 by Adam Eckstein and Andy Hawkins, and was filmed during the summer of that year. By our personal estimations, we shouldn't be allowed to function in polite society much less have made a satire of such brilliance as this movie. There is love and heart in this movie, as well as blood, sweat, tears, footprints, duct tape, hair gel, nipple clips, oak finish, and eight thousand dollar hunks of blue and yellow glass from Italy with idolic qualities. Click here to download it.





You gotta love the Venetian Head!

We should have shotguns...

Pinwheel prepares to shoot the
cameraman...

"HEY! NO SMOKING IN HERE!!!"

We are the lords of the dance.

"I KNEW it was another woman!!!"

Don't interrupt me while I'm talking!!!